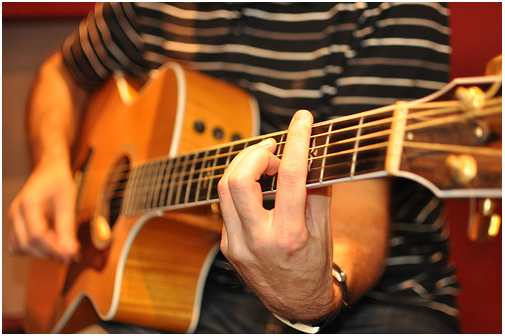 Keeping time is essential if you want to play with other musicians. Poor tempo is the quickest way to ruin a performance.
You can learn how to keep better time with your smartphone. A metronome app will keep a steady beat throughout your practice sessions to make sure you stay on time. It's like having the perfect drummer playing just for you.
Use a metronome every time you practice, even if you're just running chords and scales. The more time you spend with your metronome app, the better you will get at playing your instrument.
Master More Chords, Scales, and Modes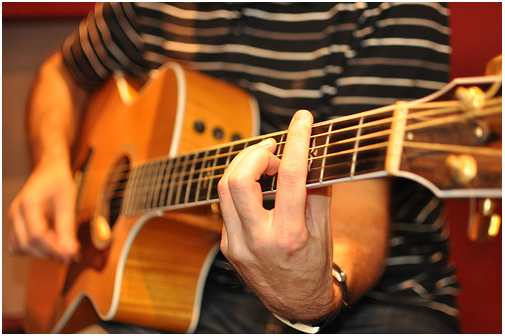 Image via Flickr by simon_music
Speaking of chords and scales, you always have something new to learn. Even if you have played for decades, you can find unexplored territory on your instrument. Learning to play with more chord voicings and modes will make you a better musician who can jam with the best.
Learning more chords, scales, and modes will also make it possible for you to play with different types of musicians, including those who focus on rock, jazz, classical, and other styles.
There are plenty of apps that will show you how to get more from your instrument. ChordBase is a good option because it lets you access a library of chords, transpose songs into other keys, and even transcribe chords into the Nashville Numbering System. Having a phone with a great display will help you see everything easily so you can practice without frustration — the LG G5's 5.3-inch Quad HD display, for example, works quite well.
Record Ideas on the Go
You've probably forgotten more song ideas that you've written. Most musicians can say that. For some reason, the best ideas always seem to come at the least convenient time, such as when you're taking a walk in the park or driving to work. By the time you get the chance to write down the lyrics and music, the idea has escaped you.
You can change that by adding an app like RecForge II Pro Audio Recorder to your mobile device. There are many recording apps out there, but this one is made specifically for musicians. It lets you record in a variety of file formats, including WAV, FLAC, and MP3. You can also use it to record multiple tracks, loop ideas, adjust pitch, and delete sections that you decide aren't interesting.
It's the closest thing you will get to having a professional recording studio in your pocket. The Pro version only costs $3.24. That's a low price for an app that can capture your next great idea. You can also try the free version. It doesn't offer as many features, but it will help you decide whether you want to pay for the full app.
Keep Your Instrument in Tune
An instrument that isn't in tune will make you sound like a terrible musician. It doesn't matter how good you are; the audience will think you're an amateur. Tuning by ear, however, is difficult for most people. A few musicians have perfect pitch, but it's rare. That's why you need a tuner app installed on your smartphone.
There are several apps designed to help musicians tune specific types of instruments, such as guitars and mandolins, but these apps tend to have restrictive properties that can make it difficult to tune a variety of instruments. Choosing a basic app like Instrument Tuner gives you more flexibility. You can use it like a chromatic tuner, because it will tell you when you get too close to a note. You don't need a lot of frills — you just need to keep your instrument in tune.
Owning a smartphone won't ensure that you become a better musician, but having these apps on your device can certainly help.