Building an effective website is important. But what is even more important is that it needs to be legal. Every now and then we hear cases of plagiarism, defamation and other stories doing rounds of websites and their owners. If you want to stay away from them, you need to build a legal and lawful website. So here's a list of 6 best practices that will help you do so: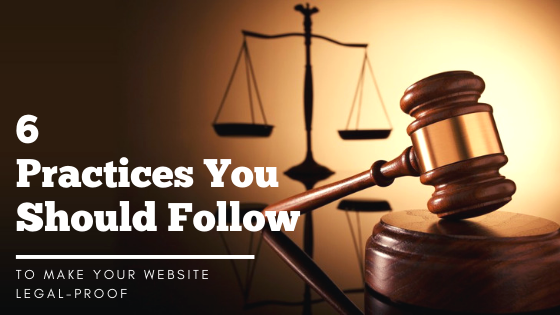 Protection of your Domain
The first thing you need to start your website is your own domain. Domain means the URL; .com, .in, .net, etc. required to access your website. Simply, you should try and have a short and easy URL for the best interest of your business. You should always go for the business name if it is available. Since domain names are unique, they need to be registered. So, if you have found your domain name, register it as soon as possible.
The trend nowadays is to register misspellings, so that it is easy to locate your business. But it is illegal and cybersquatting will have vulnerable consequences. Also, it's wise to register your domain in various social media platforms, even if you are not using them right now, they will come in handy in the business's future. Lastly, get federal trademark protection done. Although not required, it would help you if sometime down the road, a dispute arises.
Sign a contract with a web developer/ designer
Your website must be professional in nature and should reflect the effort behind it, of course in tandem with the visual aspects. This is only possible if you hire a web developer or designer. And not just hire, for further transparency sign a contract with them. A contract protects your business, establishes the timeline, expectations, and a clear cost structure. Absence of a contract can result in damaged relationships, lost trust, and other misconducts.
Keep a record of everything
Your website must be dealing with hundreds of transactions at once, which makes it highly vulnerable to miss out some really important details that might put you in trouble in the near future. The best way out is to keep a strict record of each and every detail – right from daily operations to yearly payments – everything must be either in your digital memory or in your physical records. Believe me, the records are a proven rescue in the toughest of times.
Now, you must be wondering we already have a Wayback machine to check historical data, right? But the truth is, nobody knows how frequently this data is indexed in the tool. So chances are if you are not lucky enough, you won't find any historical data of your website and you will have nothing but regrets in your hand. Instead, you must create a personal archive of everything that is there on any of your web properties. You can find out top alternatives of Wayback Machine who can actually capture all of the data as per your requirements and thus save your future.
Draft a Privacy Policy
There are more chances than not that your website will require personal details about your client, like name, email address, contact number and likewise. And if it does, a privacy policy which clearly mentions all the details is a mandate. It must be a summary of all the desired information you are asking for, with whom will you share it in the future, and how will you use it. This would not only establish trust, boost credibility but also prove to be a strong mention in times of legal emergencies.
Mention your terms and conditions
This might sound to you as an extension of the above point, and in some ways it is. The specifics of these terms and conditions only depend on the specifics of your website. For example, a site which deals with the sales of goods should state about the return policy, exchange conditions, timeline, and other details. Since they highly depend on the nature of your business or site, you might consider consulting an attorney, for a piece of expert advice. Here you can get more details on why T&C are important.
Be cautious before using Intellectual Property
If your website uses logos, images, photos, etc. you need to be extremely cautious. Long story short, you might be one step away from plagiarism charges, or copyright infringement. Take prior steps like copyright license agreement, etc. if you want to stay away from such charges and unnecessary trouble.
Having your own website, technically, has no drawback. The internet is the new hub for businesses, and we all tend to have our own website and why not? – after all, the whole world is working online nowadays. But just like the physical business, an online business or a website has to follow some laws and regulations to not fall into the trap of legal suits.