Knowing that you need a blog and being able to stick to a blog schedule are two separate things. A blog that you maintain and run correctly provides you with another bit of Internet real estate where you can build your brand and connect with people who might have an interest in what you have to offer. If you want to have the advantages that a blog can offer, then you need to put in the effort to make it happen. This means you need to set up a blog schedule and you have to stick to it. When you have a plan in place, it's going to be much easier.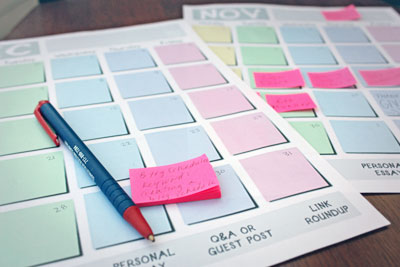 How Often Will You Post?
The first thing that you have to do is determine how often you are going to post to your blog. Often, people have trouble here because they have a gung-ho attitude when they start blogging, but this fades. Posting everyday might not be possible. You might only have the time to post once or twice a week. In the beginning, it is usually better to start with a slower posting schedule. If you find that you can meet that and have and energy to spare, then you can add another day to your posting schedule. Some sites, such as news sites can update daily or even more often. A site talking about VPN might not need as many updates.
Writing Posts Early
One of the best ways to make sure that you are posting to your blog on time each day that you need to post is to have content "in the bag" so to speak. If you have content written several days in advance that's just ready to go, it's going to be easier than trying to rush the day you are supposed to post. Having some material, photo slides, and other bits of content, such as Infographics ready to go will help you when you are feeling under the weather too. Whenever you have time, sit down and write posts that you could use on your blog. Save it for a rainy day.
Create Effective Posts
Of course, you have to make sure that you are writing good posts. When you have good content, it is going to cause more of an interaction on your site with the readers. They are going to comment and talk with one another about the post, and that's going to invigorate you. When you have a good level of interaction on your site thanks to the quality posts, you will find that it is much easier to remain excited about the blog and be able to stick with it.
Promote on Social Networks
One of the things that you will want to do in order to get more of that aforementioned interaction is promote your blog to get more readers. One of the best ways to do that is on your social networking sites. The more people who know about your blog the more people will be talking about it. If you post a new blog notice to your social networks whenever you have a post ready to read, people are going to become accustomed to it. If you miss a day, they will let you know! This is another way to keep up with your blog schedule.
Set Up Reminders on Your Computer
Sometimes, the days can slip away, and you might simply find yourself very busy. Perhaps you are working on other aspects of your company or site instead. By setting up alerts on your computer or phone to remind you about posting, you will find that it's much easier to adhere to your schedule.
Reevaluate Your Plan
After three to six months, reevaluate your plan and see if you need to change your schedule. This should be plenty of time to determine how successful your blog is based on the current schedule, and you might need to readjust.
Veronica Clyde reviews the best VPN providers at VPNServices.net. She loves to share Online Security, VPN technology and Blogging tips. If interested you can check out a Hidemyass review.