WordCamp is a informal Conference where many WordPress users meet together. WordCamp is open for all wordpress users (WordPress.org and WordPress.com) , where Users, designers, bloggers can share ideas, paricipate and know each other. Every year the Wordcamp Event once in many County once. Last year the event was held as Jabalpur where it was completed in a Great sucess. And this year the the Event is Going to be Organised at Cuttack, Orissa on March 10th – 11th , 2011.
The Wordcamp is Both for WordPress Professionals and Newbies. The Wordcamp Cuttack is organised in two sessions known as Unconference and Workshop.
Unconference is for the WordPress Prefessionals where many Prefessionals from India will be discussing about development (core, plugins, themes), Business Modules, Art of blogging and other useful stuffs related to WordPress.
Wordshop is for the Newbies who have a little or no knowledge about WordPress. And this is the best Opportunity for them to learn basics regarding WordPress from WP Geeks.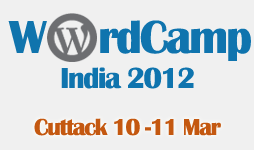 About the schedule-
The Wordcamp Cuttack 2012 is Going to be held on Marcg 10 – 11 from 9.00 AM to 6.00PM. You can get the Full Schedule from Here-
Booking Tickets-
If you are interested to Attend this Event then Book your Ticket soon as there are limited number of Tickers . The Registration fees for UnConference is Rs. 600 for 2days and for the WorkShop the Price is Rs. 500 . Here is the Detail of the Booking-
| UnConference | Workshop |
| --- | --- |
| 2 Days Access to UnConference. Chance to mingle with Indias best WordPress developers, Bloggers, Designers, and Geeks. | Chance to attend 1 day Workshop on WordPress. Learn everything related to WordPress from the best WordPress geeks. |
| Free T-Shirt | Certificate of participation |
| Free Lunch | – |
| Unlimited free snacks, cold drinks, and coffee | – |
| Free WordPress goodies | – |
| Certificate of participation | – |
| Rs. 600 for 2 Days | Rs. 500 for 1 Day |
'To know the Procedure of Booking the Tickets click below-
About the Venue-
This year the Wordcamp Event is Going to be Held in Cuttack which is the Prime Business center of Odisha.About the Organizer-
The WordCamp Cuttack is Organised by Soumya Pratihari is the Founder of iDev, Largest Blogging Firm in India. He was the Speaker at Wordcamp 2011 Jabalpur and is a Real HardCore fan of WordPress.You can know the Details at the Official Site of Wordcamp Cuttack 2012 ( http://2012.cuttack.wordcamp.org/ ) .
As I am from Odisha I am attending the Event , and I wish you will also Attend it .
Are You Coming to attend the WordCamp?
Official Hashtag – #wcctc
Join in Facebook