Orkut "was" the best social networking site in India and Brazil during 2007 and I think I created my Orkut account when I was doing my 11th Class. At that time I think there was the Only Social Networking Site which was at a High Peak in India . We used to chat with our online friends and I have remembered that we used to send Scrap to our Friends and I really hated that GIF (Animated) Image Scraps.
As time travels , technology also changed and the Mind of prople also changed. During 2009 I saw that most of my friends was using Facebook instead of Orkut. I dont think that any of my Friends are using Orkut anymore. I have logged into my Orkut account 7Months ago. Now there are many Social Networking Sites and many of them are in High Demand including Facebook , Google+ , Pinterest and many Other.
The reason of writing this Post is that yesterday while I was looking for the ALexa ranks I saw that the Rank and the Daily Reach of the Orkut is decreasing day to day. Within 3month the reach was decreased to -32.8% .The present rank of Orkut is 691 globally and 50 in India. I used to Open my Facebook and Google+ account regularly.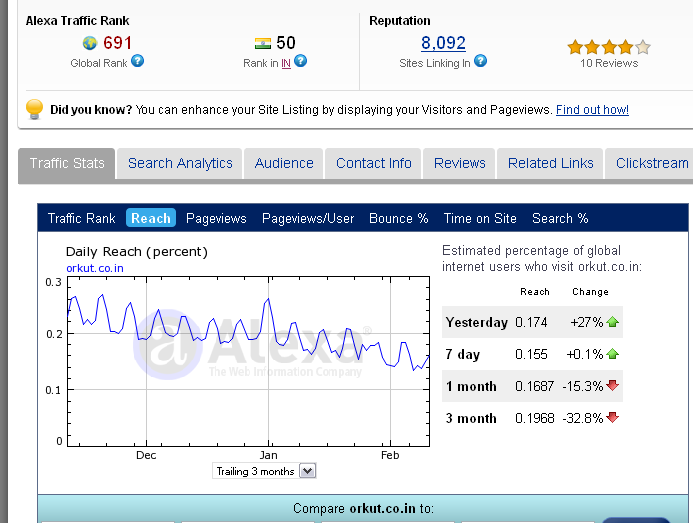 I think Orkut is Really Losing its Social Grip and the reason is Google+.
Share your Reviews regarding this.