File transfer between iPhone and PC is a real hassle, especially for non-tech savvy people. Apple tells users that iTunes can help sync files between computer and iOS devices. However, few people are willing to use this bloated, complicated, yet features-limited software. After spending plenty of time reading relevant instructions, most people still can't take full control of iTunes. In light of that, a multitude of stellar iPhone file managers appear successively to make up for the deficiencies of iTunes. One of them is WinX MediaTrans.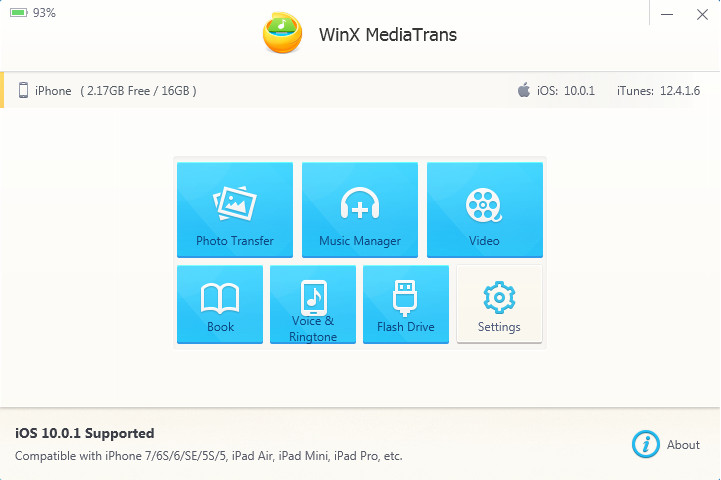 WinX MediaTrans is an intuitive and simple desktop-based program compatible with Windows 10 and lower, especially designed to transfer multimedia files between iPhone/iPad/iPod and PC. If you're a PC user with iDevices powered by iOS 10 or earlier in your bags, you can take advantage of it to make iOS file transfer and management easier than ever before. Anyone can master it in no time, even without help guides.
Main features:
Remove DRM from iTunes purchases
This feature is a new addition. It is initially released to WinX MediaTrans v3.3. Media files purchased from iTunes Store are often encrypted by Apple's FairPlay DRM which limits users to play files on authorized Apple devices only. Thankfully, this tool can decode DRM-protected movies, music and audio books purchased from iTunes Store and iBooks Store for flexible playback.
Transfer photos
Our iPhones are always filled with all kinds of photos like selfies, screenshots and landscape pictures, right? To free up iPhone space or for other reason, we need to get photos off iPhone to PC. And WinX MediaTrans can perform this task easily and quickly. 100 4K photos can be transferred within 8 seconds only. Furthermore, it can transfer photos back to iPhone.
Manage unencrypted and DRM-restricted music and videos.
This software allows users to transfer music and videos selectively, be them DRM-free or DRM-protected, between iOS device and PC in batch mode. Virtually all video audio files can be imported and transferred to iPhone/iPad/iPod in a playable format, because of auto-convert options. It can automatically convert Apple-unsupported video to MP4 and transcode incompatible audio to MP3 or AAC. Besides, it enables users to create playlists, and edit title, artist, album and other information.
Transfer e-books
It supports transferring PDF, EPUB, and audio books downloaded online or purchased from iBooks Store. As mentioned above, it is able to help strip DRM off purchased audio books. Someone who needs to export EPUB to PDF, TXT or HTML can also utilize it.
Ringtone, Voice Memos, iTunes U and Podcast are supported as well
Get access to "Voice & Ringtone", and then you can make ringtone for iPhone, transfer self-made or downloaded ringtone, iTunes U and Podcast in two directions, and export voice memos from iPhone to PC.
Make iPhone a flash drive
Need to copy some files off PC, but without a flash drive around you? Just copy them into your iPhone if it has enough space. WinX MediaTrans can turn your iPhone into a portable flash drive to store all sorts of files, such as Word, Excel, TXT, PPT, application setup files, and so on.
To sum up, WinX MediaTrans is one of the best iTunes alternatives for iOS file sync and management, owing to elegant interface, simple operation, and rich functions. Besides, this software provider offers free and prompt technical support to people in need.
Manage your iPhone file now, free get WinX MediaTrans license code at:
https://www.winxdvd.com/giveaway/iphone-ios-manager.htm
About the developer – Digiarty Software:
With 10 years of experience in the industry, Digiarty is now a leader in personal and home-use video audio applications based on Windows and macOS. It provides fast and easy-to-use DVD ripper/copier/creator, video converter, online video downloader, media player, iPhone file manager, video audio streaming app, etc. To find out more about the company, please visit https://www.winxdvd.com/