It happens a number of times that people delete their important files from their computer. And it can lead up to sever inconvenience if you have removed a vital document mistakenly. Fret not! No matter what you have deleted accidentally, it can be recovered using data recovery software. Let us tell you what are the types of files you can recover? As we utter the word 'files', please keep in mind that computer files can be anything. It can be videos, word files, PDFs, MP3 audios or text files. Till you initiate the recovery process, allow your computer to have some rest, try using it to a minimum. Why? Because the more you use it, the machine will automatically read more data and make it difficult for you to retrieve the deleted item.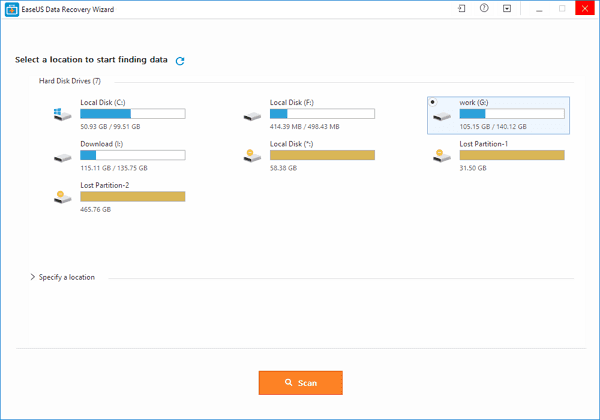 Secured methods to recover deleted data
The most secure and hassle-free method to recover accidentally deleted items is to use the free data recovery software available online. Many of the software come for free; however, the authenticity is never compromised. The third party data recovery or memory card recovery software, EaseUS is one of the trusted software in this regard. One can download any of the free data recovery software to work with. Often software is open to short-term free trials, along with advanced updates to provide a user-friendly experience.
The data recovery software available online works quite good and can be trusted for getting your files back even if it has been deleted permanently from the recycle bin. However, many a time even if the file has been recovered, the content needs to be rewritten.
Usually, this is how free data recovery software works:
If you have deleted an item from your computer and need to recover it, download free data recovery software first. Once downloaded, install it in the system, which most of the times needs permission from the user. The software then scans the whole system in order to get access to all the folders.
Following the thorough scanning process, the software starts searching for the lost content.
One should always disable third-party protection in order to run the software to search for the lost data.
Once found the lost file, the user can easily restore the displayed file by just a click in the new file or folder.
If anyone is worried thinking that the file content may get distorted during transfer, rest assured. Files recovered by data recovery software are permanent and is never changed during the restoration process.
Why prefer EaseUS data recovery software over others? Here goes the reason:
Want a fast recovery of your deleted items? EaseUS can help with that. EaseUS is fast and trusted data recovery software and you will get back your deleted items in just a few minutes and with a few clicks. While other data recovery software available in the industry only from the internal hard drive, with EaseUS one can restore the deleted files also from the external drive attached to the system.
Why EaseUS is best? It is because users can select the disk partition and storage location from where they have deleted the files.  Also, if you are facing issues in managing partitions, backup and restore your data, and transferring data, EaseUS can assist in that as well.
While you are working on windows, EaseUS has been considered as the most convenient software to work with by most users. It has been designed to deal with all complicated data loss, like deleted recovery, system crash, data recovery after virus attack, format recovery, and raw error. If you have accidentally deleted items from a personal machine, external hard drive, memory card, iPods, memory cards, DVDs, or USB drive can also be restored while keeping the content intact and in no time.
When compared to other data restoring software that follow the usual method of searching- scanning- restoring method, EaseUS can always provide a better experience because it can identify multiple tools and advanced settings. It works with all the versions of Windows and can recover files from 32 and 64-bit window versions.
Also, this software runs an automatic and deep scan to find out more documents followed by the quick scan. As all these are done, this software will allow its users to filter and preview all the recoverable files by its types. First select the files you want to keep, click recover, and restore them from the PC or any other external storage device.
How to avoid accidental deletion of important documents?
Now that we have provided ample information on data recovery software, one should be careful while working on their computers. To avoid accidental removal of important documents, files or folders, and throw it to the recycle bin, one should initiate for a confirmation when deleting files.
Computers cannot delete your important documents by themselves unless it has been commanded to work in such a manner. So in order to avoid accidental removal of documents, one has to modify the properties of the recycle bins. When you right click and tap and hold the recycle bin icon, there appears display delete confirmation dialogue which would make sure that you will check what's in the box and if you are sure you want to delete it.
Have you deleted your documents permanently? Data recovery software can be your saviour. You can always undo permanent removal of files in Windows 10/8/7/XP and Vista. Follow the aforementioned methods or select any of the tools to make sure you get back all your documents with a single click and in a hassle-free mode.
Author Bio- "Creative and passionate about Writing. Delivered travel and lifestyle-related content through various channels like Medium, BuzzFeed, HuffingtonPost, and Tech.co etc, while completing the goal of a self-supported overland drive around the world; Sometimes for educational or Sometimes, for informative purpose."