Data Security is one of the most vital requirements in every field of technology. Security is needed over the Internet, Websites and even on your Computer. There are not many solutions for Laptop security either..
A few days ago a friend had left his laptop unattended, one of his colleagues logged into his laptop and used a pen drive to copy all his private information such as his photos etc without his permission. Unfortunately by the time my friend got to know about this data theft, there was really nothing he could do about it. Do you think that your friends or colleagues may do such things? If yes then you need a good anti data theft solution for your laptop.
Insta-LockDown is a security software which helps you protect your files from being copied from your computer onto Pen-drives, over the Internet or even via attachments in Web Mail. This software can be configured so that it will also automatically lock when your computer is idle and you will need to enter a password (which you must have given while login) everytime you wish to lock or unlock Data Transfer Channels.
I have used this Software and have decided to use it forever. Here are Detailed Installation steps of Insta LockDown.
While Installing the software it will ask you the Channels(USB, Bluetooth, Modem, Attachments, Networks etc.) you want to Lock from the Start.
Then after Choosing these options it will ask you to set a password which will be needed to lock or unlock the computer.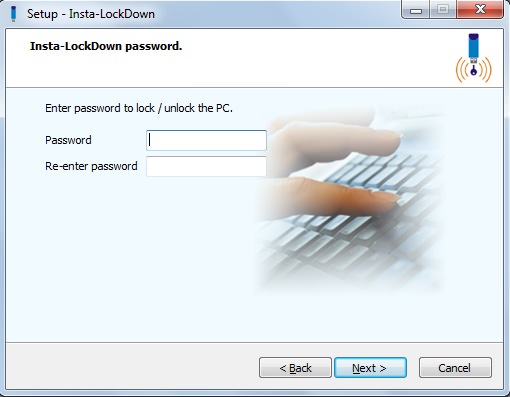 When the Software is completely installed, it automatically locks the computer and you will need to press "CTRL + SHIFT + L" to unlock the computer.
Now whenever you need to lock or unlock the computer you need to use the keystroke combination. This keystroke combination can be changed via the Insta-LockDown Control Panel.

If you need to change the settings of Insta-LockDown, you need to open the Insta-LockDown Control Panel which can be accessed from the Start Menu.
You can change the data lock down keystroke combination from control panel. You can also change the interval lock time for inactive or idle mode. You can also select the data channels you wish to lock from the control panel.
The software cannot be uninstalled either without the correct password.
Some of the Advance Features of Insta lockdown are-
Initiate Lock Down with a keyboard shortcut
Block Copying of data to external USB drives / devices
Disable Internet Access via portable Modems / Data Cards
Do not allow browser based upload of Attachments.
Disable Copying of Files & Uploads via Wired / Wireless Networks
It supports Windows XP, Vista, 7 and a Minimum of 512 RAM is required for a Smooth run of the software.
If you want to install the software then you can Buy it or Try it from here.
Thanks.