Maxthon is a Web Browser which is not among the Top 5 Browsers but has won About.com's reader's choice award for 2011 and 2012 in Best Small Market Desktop Browser. After Exploring and doing some testing I got few qualities and features which is better than other browsers.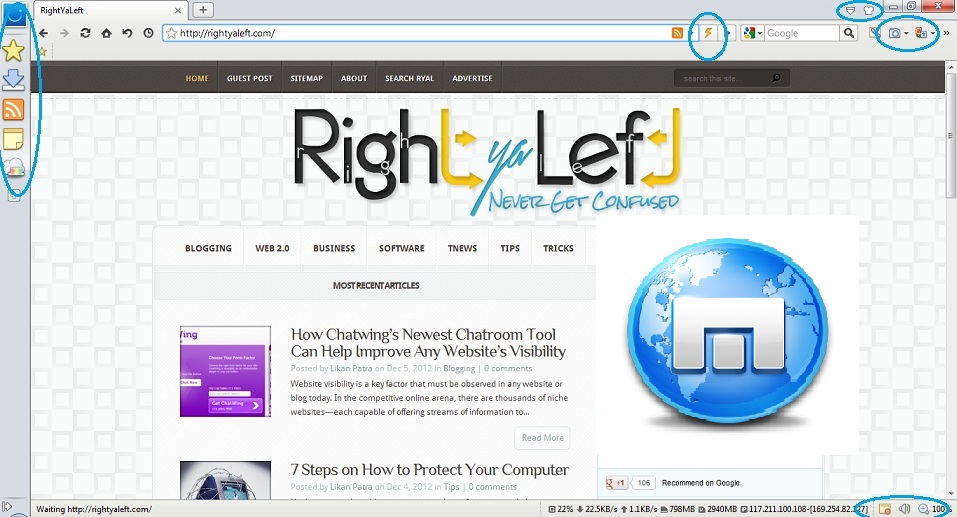 As usual it has almost all the features which General Browsers such as Private Browsing, Bookmarking, Skins, Extensions, Speeddials, URL Auto Complete. Other Browsers have Extensions and Adons which need to be installed Sepately and it consumes much Memory and RAM. But Maxthon have many Preinstalled Features and Extensions which makes the Browser Better. It has Skin Manager and Extension manager using which you can Install different Skins and Extensions from the Internet.
Before going to Deeper Review I want to tell the Basic Features of Maxthon Browser which I have collected from Wikipedia.
Here I want to List some Features for which We are considering Maxthon as a Better Browser then Other Browsers such as Chrome, Firefox, Safari etc.
High Speed Browsing is Fun
Maxthon Browser claims that it loads webpages 200% more faster than Google Chrome using its browser engine. The navigation time of Maxthon browser is 3.2 seconds, as compared to Google Chrome (4.2 seconds), Internet Explorer (4.5 seconds) and Firefox (5.7 seconds).
Reader Mode makes easy to Read Articles
While Reading Blogs/articles in Maxthon Browser you will see a grey icon in the address bar which is known as reader mode. If you click on the icon you will go to the reader mode. All other elements other than the Main Article is removed and Simple text with White Background Popups on the screen. While reading you can change the reading mode, color, font size, page width etc.
Night Mode is Healthy for Eyes
This Mode is useful when you are surfing in Darkness at night, when lights are switched off. During darkness you should enable the Night Mode which will bring all the webpages with dark shades by filling the white spaces with black color which will help to protect your eyes from the stress coming from bright screen. Yo can use custon text/background color using Custom Configuration.
Tab Sync helps to synchronize Tabs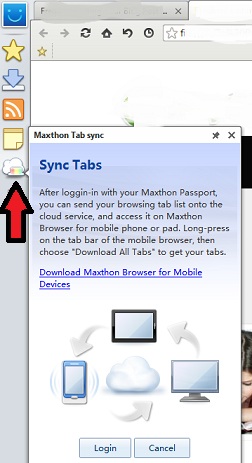 After loggin-in with your Maxthon Passport, you can send your browsing tab list onto the cloud service, and access it on Maxthon Browser for mobile phone or pad. Long-press on the tab bar of the mobile browser, then choose "Download All Tabs" to get your tabs.
Download Manager for Secure Downloading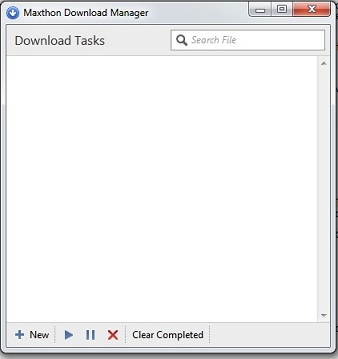 It has a Inbuilt Download Manager from which you can Resume, Pause, Stop medias from Downloading anytime.
Maxthon Skynote works similar to Notepad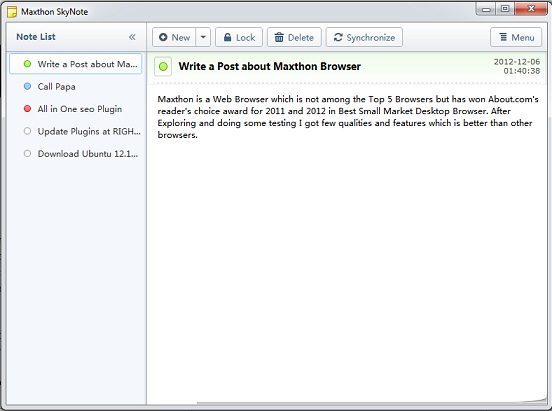 Write Notes and save it directly in the Browser. You can choose Different Colors to Make it Important or not. You can also Lock notes so that no one can change the content. By logging into maxthon Passport you can sync your notes online.
Lighting Mode for Fixing Broken Pages
Maxthon uses its Ultra Mode technology by default, switching to Retro Mode only when necessary to fix and display older-style websites. Switch to Retro Mode manually by clicking to the right of the Address Bar.
Ad Hunter helps to get Rid of Ads
The Ad Blocker of Maxthon Browser is named as Ad Hunter which is an inbuilt Extension which Blocks Popups and you can also customize it to block other Ads in any page. You can even block specific ads by click. The Ad Hunter is present in the Bottom toolbar of the Browser.
Translator to Translate Pages Directly
Translate anypage or any selected text by One click from the Maxthin Translator which use Two Different Translating tools Google Translator and Youdao.
Screenshot for Snapshot of any Page

Capture any Screenshot of Selected area or Entire Page using the Preinstalled Screenshot Tool. Using this Tool will not consume any extra RAM or Memory. This tool is mostly helpful for Bloggers and some general Internet Users.
Mute Control to Mute the Browser

To mute the sounds from a particular webpage under Maxthon, you don't have to go through complex settings. Down in the browser's interface you'll find the "Mute Control" button
Data Information bar to know Statistics
The bottom bar of Maxthon provides the information of data transfer rate, that is download and upload speed. Maxthon also provides the information of CPU usage, available physical and virtual memory, local IP and public IP address.
URL alias helps to open Websites Easily
Maxthon's URL Alias feature is used to set an "alias" for a certain website. When you type the alias in the address bar, Maxthon will navigate to the relevant URL. For opening http://www.Facebook.com you can use fb.
Mouse Gestures to Navigate Faster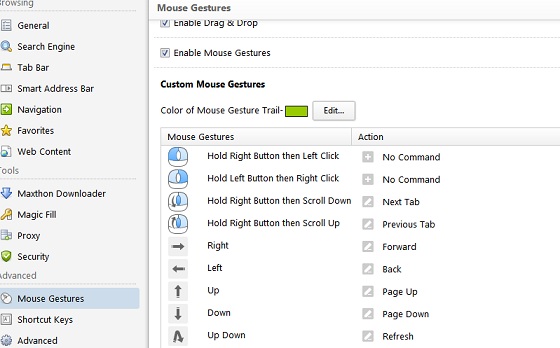 Mouse Gesture is an easy way to perform different actions and speed up your surfing especially when you browse the web in Fullscreen Mode or Autohide Mode.
————————————————–
Thats it. So these were the Features for which I will suggest other to use Maxthon browser.
If you like to Download Maxthon Browser then Download it from the link below-