Upload Rabbit for Facebook is an easy to use software, which enables you upload photos and videos to Facebook directly via drag and drop or Windows right-click context menu. Upload Rabbit offer elegant way to upload photos to existing album or new created album. Also supports multiple accounts and you can switch among them by just one simple click.
First of all you need to download the Installer file – Click here to Download Upload Rabbit for Facebook.
After Downloading And Installing the Application, run it.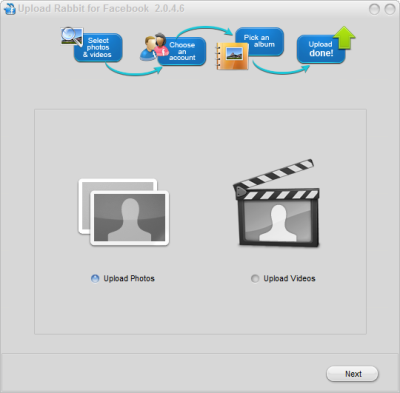 Now Select your Photos and Videos by Clicking in the Required Icon.
Noe Click on Next and Login into your Facebook Account.
Now you will get some option where to place the Pic or the Video. You will choose the required place such as Wall or Album.
Now Click on Upload files and All your files will be uploaded to the required place.
Enjoy.