A bad news for all of them who loves SMS . From Coming  September 27 and you will not be able to send more than 100 SMS per day.  Telecom Regulatory Authority of India (TRAI) finally today announced 27th September 2011 as the date of implementation for Telecom Commercial Communications Customer Preference (Sixth Amendment) Regulations, 2011.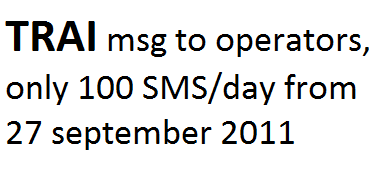 SMS packs with Unlimited SMS plan will now restrict their plans to being under 100 SMSes per day. India's Telecom regulator said that "Every Access Provider (Telecom/Mobile Operators) shall withdraw before the 26th September, 2011 all telecom resources allocated to a telemarketer except those telecom resources which have been allocated in accordance with the provisions of the regulations."
Though this move is directed at telemarketers, it is bound to affect regular users as well. SMS or Short Message Service has become the cheaper way to contact people and with the 100 SMS/day cap coming, there is a huge chance that people will have to shift to calling now. This has been mainly done to avoid the menace of telemarketing SMSes.