The battle for the cheapest Android tablet seems to be begun. After Beetel now it's a Bangalore-based company "Lakshmi Access Communications Systems" will launch Android Tablets in the price range of Rs 6,250 to Rs 35,000.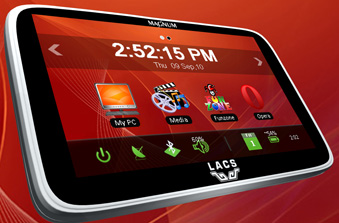 The tablets were launched on Friday. They are available in 7-, 8- and 10-inch model in four product category namely Pepper, Tamarind, Mirchi and Paprika.
"The base price for the tablet is USD 99 but with taxes it goes up to Rs 6,250," Lakshmi Access Communications Systems (LACS) MD Mahendra Kumar D Jain said.
Pepper, priced at Rs 6,250, is built on Android 2.2 and has 800 Mhz Via processor. It has 4 GB in-built memory, expandable up to 16 GB and supports 3G dongles for connectivity. Each of the tablets will have external keyboard and USB port connectivity option.
The company expects to sell about 3-4 lakh tablets over the next 12 months through its branded showroom.
"We will set up our 10,000 showrooms in 12 months across country. This will be mix of directly owned and franchisee outlets. Our franchisee owner will not have to register for sales tax because we have central billing," he said.
It is planning an investment of over Rs 100 crore in this financial year and most of the funding will be done from internal resources. "We are in talks with some investors but the investment can be made from our own resources. Most of the
funding will be from our resources only," Jain said.
LACS looks at a sales target of Rs 800 crore over a period of one year. The company has tied up with ICICI bank, HDFC bank, Citibank and Standard Chartered for their credit card users to provide these devices on an EMI option.
"We are confident on quality of our product and are providing swap warranty which means that in case the problem in tablet is not solved over phone then you can change the product within warranty period from our outlets," Jain said.
He added the company is also offering upgrade warranty which means on launch of new product, the user of Magnum tablet can upgrade to their existing by paying the difference between price of tablet in use and the new product.