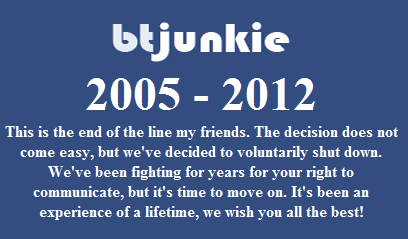 After the Shutting down of Different Uploading and Downloading sit like "MegaUpload" , Hotfile and other Filesharing sites which had a great impact on File Sharing Market, now its time for the Torrent Downloading Sites.
BTJunkie the highest torrent indexer  shuts down now. There is no warning from the service enclosure rather there is a GoodBye meggage appeared on the site . Its a 7Year Old Torrent Indexing site. 
The company did not specifically address why it opted to shut down, but in an interview with TorrentFreak, BTJunkie's unnamed founder said the threat of legal action was a main reason. "Witnessing all the trouble colleagues got into was cause for a lot of worry and stress, and those will now belong to the past," TorrentFreak wrote.
The blog noted that BTJunkie was reported to the U.S. Trade Representative (USTR) in November, the MPAA and RIAA list it as a "rogue" Web site (like those targeted by SOPA and PIPA), and it is censored by Google over piracy concerns.
Lets wait and see what other Torrent sites are going to shutdown?