Live collaboration is one of the significant and most useful features of PowerPoint 2013, the latest version of presentation work suite. You can seamlessly collaborate with your colleague, clients or friends and make changes to it, simultaneously.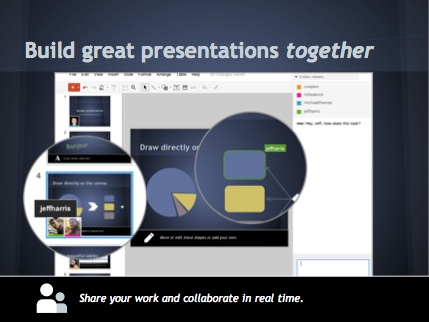 Your SkyDrive account can be used share the presentation among your colleagues.
Primary, upload the presentation to your Skydrive Cloud Space, either through PowerPoint Auto Sync feature or manually. Browse to the SkyDrive folder where you have uploaded the presentation, Choose the "Share Link" option to send the presentation to entered recipient email id's.
To each of these recipients, a direct link to the presentation is delivered through which each of them can work on the presentation simultaneously by web apps application.
PowerPoint 2010 and older versions, provide the "Review instructions" feature, which is useful to accept and review modifications that are specified.
Also Read- Easy Ways to Make Flow Charts in PowerPoint 2013
Reviewing modifications:
The new comment option enables making comments and notes on the presentations to bring them to the notice of your colleagues working on the presentation. Comments are pretty useful to keep track of the slides, especially, if your presentation is sized like a mammoth with numerous slides.
Declining or Accepting modifications:
By declining modifications the presentation retains the earlier version of it and by accepting them the changes become incorporated. To either accept or decline modification made by others users working on the presentation, In the Review tab, Choose 'Accept' or 'Reject' options respectively.
Also Read – Converting PowerPoint Presentation for Web in HTML5
Ending review:
End Review option is used at the final stage after all the modifications have been made, to end the review process. Modifications can't be undo'ed after this stage,  changes become permanent. It's advisable to backup earlier versions of your presentation, just in case you wish to revert back to an earlier version, later.
Collaboration teamed up with review options is a seamless way to assign work to your employees or work with your friends simultaneously. Earlier, you had to send the .PPT file to each member and it was too difficult to stay in track of changes.
Also Read – Comparing and Merging Presentations in PowerPoint 2013
Let me know, If you face any problems or inconvenience, while following the tutorial through comments.
Author Bio: Gautham is a professional themes and template designer. He blogs at PowerPoint Themes to share professional PPT templates.