Proposals often take as much planning as the wedding itself. Figuring out the perfect place to propose can be difficult. However, if you are the type of couple that loves trips and adventures, why not plan a proposal trip? Many couples have caught on that often the most romantic places to pop the question might need a plane ticket to get to. These spots just have a natural atmosphere that conjures feelings of love and affection. If you are hoping for an unforgettable engagement story, you might want to book a trip to one of these locations to start your romantic love story. Here are some of the most popular places to pop the question: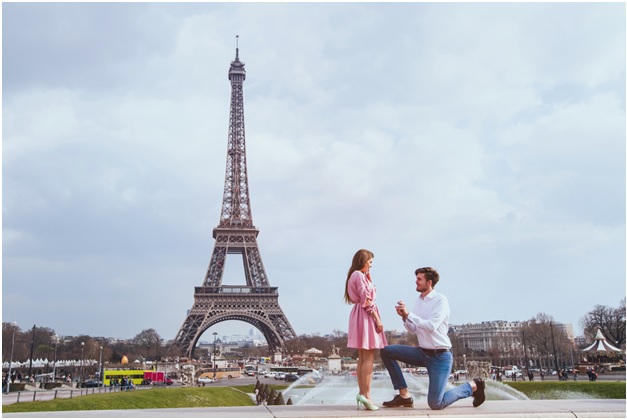 Disneyland, Paris – This magical place is filled not just with fun and joy but also love. Sleeping Beauty's castle has seen many proposals take place in front of it throughout the years. This spot is perfect for those Disney fans or those that want to treat the love of their lives like the princess they are.
Paris, France – Disneyland in Paris is not the only place in the city that screams romance. The city itself is known for being one of the most romantic cities in the world. Known as the city of love, it's historical landmarks, artistic neighbourhoods, and quaint streets make every corner of this city the perfect spot to pop the question. If you want to make it truly memorable, you should make sure to take a stroll in front of the Eiffel Tower where many proposals have taken place. This makes not just for a romantic moment, but a picture-perfect one as well.
Venice, Italy – Another romantic city in Europe is Venice. Venice is a beautiful city that offers many opportunities for a romantic moment to pop the question. A gondola ride can be the perfect opportunity to not only tour the city full of antiquities but also an opportunity to ask your partner for their hand in marriage. This is also a great place to search for the perfect ring. Italians hold wedding jewelry in high regard, and the practice of wedding rings goes back to ancient times. Because of this belief in the importance of diamonds, Italian jewellery makers take the quality of their diamonds very seriously. They consider qualities such as colour to be highly important. The colour of the diamond in an engagement ring will often also affect the diamond's fluorescence. Meaning the diamond can give off a glowing hue which can affect not just the colour but the clarity of the diamond. This could reflect the Italians' belief that diamonds are essential for an engagement ring because the diamond was created by the flames of love
Hawaii – If a European adventure is not on your travel list, you may want to consider a more island vibe for your proposal. Hawaii is often a must on many people's travel list. It is the perfect place to relax and enjoy the beach with your partner before you pop the question. There are even resorts that offer proposal packages and range from simple, intimate dinners to more elaborate affairs that can cost up to $20,000.
Central Park, New York – Another popular spot to pop the question in Central Park in New York City. This massive park has many romantic spots where you can pop the question. Central Park is one of the most popular places to pop the question because of the many different places that are within the park that makes for the perfect romantic moment. For example, you can book an intimate carriage ride or take in the view at Bow Bridge. Whether you want an intimate moment to yourselves or if you want a place to propose in front of a crowd, Central Park is perfect for any proposed plan.
Some couples fall in love with travelling. Getting engaged abroad is the perfect way to combine your love of one another with your love of travel. Starting off your marriage with the perfect proposal is a great start to your journey as a couple.