Cortex- Share Media on The Web Faster [Chrome Extension]
There have been many attempts on making a social browser in the past as well as currently a second wave of making a social browser is in full progress. Flock, Rockmelt and Mozilla are trying to out do each other in making a successful Social Browser.  All this is an effort to build a browser that integrates well with our social lifestyle on web.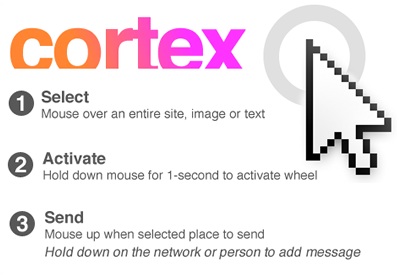 Now I am going to tell about an Extension of Chrome named as Cortex-
This is an extension of Chrome which enables us to have a quick share of media over the Internet/Social Media.
The sharing mechanism is a wheel which appears after you click and keep holding your mouse button. If you hover over one of these four areas , an option to share a message also appears which then is shared as your twitter post or a post on your Facebook Wall. It also gives you the option to share directly with your pre selected friends using its setup.
When you first install the extension it will ask you to add your accounts to it. Here is the snapshot of it.
The features are-
Share anything:
* Links
* Articles
* Images
* Videos
* Highlighted Text

To anywhere:
* Facebook
* Facebook Friends
* Twitter
* Tumblr
* Instapaper
Click here to download the Extension- CORTEX.
Enjoy
I am Susan Hannan from Test4Prep; it gives 100% E20-690 exam exams. Let's take benefit of 1Z0-821 exam Exams material efficiently and get guaranteed success. Check out free demo of all certifications Exam. .