A good news for Downloaders and Uploaders . Recently Hacktivist group have launched there own filesharing website named as www.AnonyUpload.com . This news came just after the news Megaupload , filesonic and all other filesharing sites have got down.
Anonymous, the "hacktavist" group who retaliated against the United States Government for bringing down file-sharing websites Megaupload and Megavideo by hacking the websites of the MPAA, RIAA and the Department of Justice, is once again taking matters into their own hands and creating a Megaupload and Megavideo alternative of their own.

The website, www.AnonyUpload.com, was registered on Monday to a P.O. box in Sunnydale, Calif. to an "Adrian Jesson," though Anonymous says that the domain registration will change to a Russian host. "For your safety, our infrastructure will be out of the U.S jurisdiction (Russia.)"

Anonymous website aims to have its servers up by Wednesday, Jan. 25 and will offer every user FTP access "which can be used to safely transfer files." The site advertises that it will be 100 percent free, 100 percent anonymous, and ad-free, but right now is asking for donations. "Yes, we need your help!," the site says. "Why ? To buy server, disk space. To ensure the quality of our service. To ensure the safety of our users. To ensure the rapid transfer. We want sharing of knowledge and culture free and accessible for all."

The site also displays a thank-you message to "mister Dotcom," the founder of Megaupload and Megavideo who was indicted last week on charges of online piracy, including racketeering conspiracy, conspiring to commit copyright infringement, and conspiring to commit money laundering.

The site will also have a rewards program, though there no word on how exactly it would work. Megaupload's rewards program paid users when their files were downloaded, and was mentioned in the indictment by the government.

Registration for the site is not currently open, but will be in advance of the Jan. 23 launch.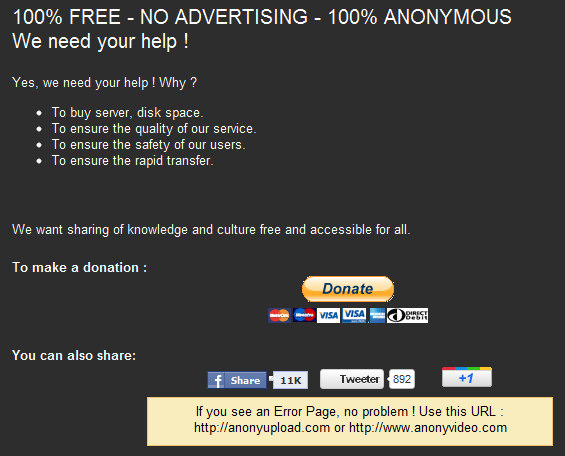 This website is currently partially functional and only the Social networking and paypal are working.
Source – IBTimes