Today we do everything online. Most of us want to increase our experience and learning in the free time in the internet. Playing Musical instruments make our mind and body refresh. But due to lack of money and time we are unable to learn them. But now you can easily learn piano when you are free using OnlinePianist.com . Here you will learn virtually using interactive and animated keyboard which teaches how to play your favorite song on the piano. The wesbite is a collection of animated tutorials.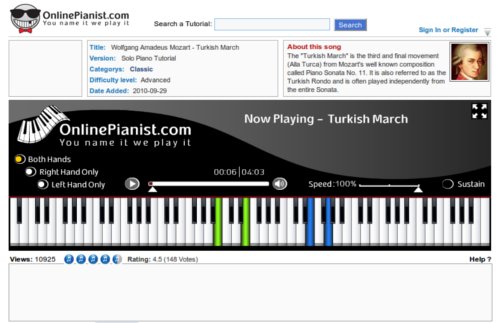 You can control this key manually to adjust speed, rewind and pause. It means you can learn your favorite song at your own speed. You can also find free sheet music at the site, if you want to learn piano by sheet music. There is a huge catalog of piano tutorials which is  structured alphabetically by music genre, artist, or difficulty level. You can even download piano sheets.
To visit the site click here-
Thanks.