In 2013 Cloud Computing has been the Top Platform as you can Share , Collaborate projects and data online and can be accessed from a wide verity of Devices. One can store data on the Cloud, run it directly from the cloud servers without installing anything on your Computer. Some examples of Cloud Computing services are Gmail, Dropbox, Google Docs, Yahoo mail etc.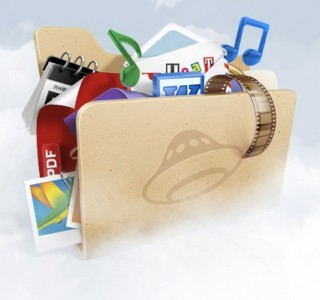 You can Store your Important data Online in Cloud using Different Services. The advantage of Storing in the cloud are You don't need to purchase an extra Hard disk drive to store your Data and if your computer crashes any time then all your data are saved in the cloud and you can recover them easily. The best advantage of using the cloud is that you can access your Photos, Music and Videos anytime from any device if connected to the Internet.
Also Read-   What is CLOUD COMPUTING, its Advantages & Disadvantages
Here I want to list top 5 Cloud Storing Services which you can use to store Online-
Dropbox is one of the Best Cloud storage services which provide 2GB of free Storage Space. And if you refer a Friend then you can get 250MB free Storage (up to 8GB) as a Referral. As Dropbox Stores your History for one-month history of your work, meantime you can undelete the files. You can share links of Files and Folders with Friend online. Dropbox works with Windows, Mac, Linux, iPad, iPad and Android . It stores data securely as it is transmitted over Encrypted Channel SSL.
SugerSync provide 5GB of Storage space for Free. It provides free Automatic Backup Option , you can make the program run in the background. The data are transferred securely using Transport Layer Security (TLS) and stored in Encrypted using 128-bit AES. SugeSync can be synced through iPhone, iPad, Symbiam, Windows , Blackberry and Android too.
Box.net is another Cloud Service which provides 5GB for free to users . Here you will get a link and you can share the link for your Folders and Files and you can share it with friends too. The best feature of Box.net is that you can share the folders with collaborators which means other people will be able to access, comment on, share and update all the files in the particular folder.
The is my favorite cloud service which I use the most. You can store your files upto 5 GB for free . You can Create Text Documents, Spreadsheets, Presentations etc directly and store them. You can also upload different file formats such as PDF files, Images, videos and zip too.
Skydrive is a Free service from Microsoft from where you can create and exit an MS word, excel, PowerPoint files online without installing MS Office in your Computer. And you can create folders with permissions as public and private. You can store upto 25GB of Files with a file size limit of 50MB per file.
You can use any of these services as they are free and secured.
Thanks