With so many tasks to fulfill and deadlines to meet, it is sometimes hard to focus and stay productive. That's where productivity tools come in handy. The problem is, there are tons of them and it takes a lot of time to test them and find the most useful. To save you time, we made a selection of five popular and reliable tools that will certainly make your day more productive: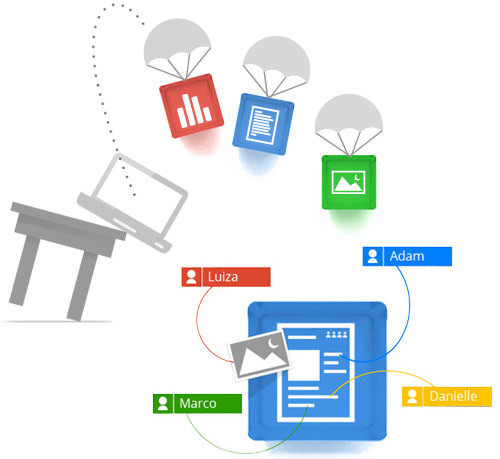 Let's start with Google Drive, because you are probably already familiar with it. It's actually an online alternative to Microsoft Office and has a lot of different tools and add-ons that increase efficiency at work. You can use Google Docs to create different business documents like financial statements or business contracts, and you can use Google Sheets to create charts and tables, the way you'd do in Excel. The difference is, you can access the document from anywhere on the planet, as long as you have an internet connection. Google Drive saves you time because it allows you to share the document you're working on with your co-workers and they can see it instantly. As the owner of the document, you can decide if you only want them to view the document, or to be able to edit it as well. You can see your colleagues' edits in real time.
Evernote is maybe the best organizational tool, especially if you are conducting any type of research. Evernote allows you to collect all information in one place, but you can also use it to make notes and notebooks and organize them in categories. You also have the option to protect your data by setting a password and you can share your notes with others.
PDF Converter Elite is a tool that makes PDF documents editable by converting them to different MS Office formats. It also converts PDF to OpenOffice, Image, AutoCAD and HTML. In addition, PDF Converter Elite can be used to create secure PDFs, and to edit scanned PDF documents, which can be very useful for people who need to digitize and edit their hard copy paperwork.
Trello is a project management tool that helps you visually organize your data and manage your tasks. You can manage projects by yourself or you can do it with your coworkers. Trello is a kind of a board with stickers, but the difference is that you can split the data into visual categories and make it more comprehensive.
Docusign is another must-have tool when it comes to business productivity. Like PDF Converter Elite, it's a necessary tool for document management which serves for digital signing of the documents and helps you finish your document signing faster than usual.
Do you use any of these tools and how do they help you boost your productivity?